Skip to Main Content
It looks like you're using Internet Explorer 11 or older. This website works best with modern browsers such as the latest versions of Chrome, Firefox, Safari, and Edge. If you continue with this browser, you may see unexpected results.
What is Predatory Publishing?
An exploitative practice that targets authors to submit articles to a journal, without providing the editorial or publishing services associated with legitimate journals.
Characteristics of predatory publishing:
Soliciting for articles or asking to serve on editorial boards
High author publishing fees
Little or no peer review of submitted articles
Create a fake profile to seem like a traditional journal in terms of:

Website
Journal name
Editorial Board
Journal Metrics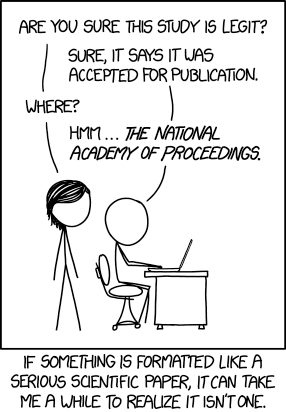 Questions to consider for analyzing journals
First Contact
Were you contacted by email to submit an article for publication?
What types of articles are accepted in the journal?
Is their email or website filled with spelling and grammatical errors?
Did they promise rapid publication?
Is the email address non professional or non journal affiliated?
Are there upfront fees before decision on acceptance?
Research the Journal's website
Is the website aimed at authors or readers?
Is the language of author information taken directly from other places?
Is the journal's scope too broad?
Are the images of high quality of distorted and fuzzy?
Where is the journal indexed?
What are the authors fees?
Where are the editors based compared to where the journal is based?
Is there information on preserving the article digitally?
Research the Publisher
Can you easily identify the publisher?
Is there a link provided to the publisher's website?
Can you find the contact information for the publisher?
Does the publisher seem to have a journal in every discipline?
Adapted from Shamseer et al. (2017). Potential predatory and legitimate biomedical journals: can you tell the difference? A cross-sectional comparison. BMC Medicine. 15:28. DOI: https://doi.org/10.1186/s12916-017-0785-9
Risks to you
The cost associated with high fees.
Your work may be subject to sub-par peer-review.
Your publication will have low visibility or is difficult to find.
Your article could disappear when journal ceases to exist.
Serving on questionable journal boards will lower reputation.
Potential embarrassment from falling for a scam.
Librarian Support
If you would like assistance evalauting journals, reach out to your liaison librarian. Librarians can help you with:
Reviewing email solicitations from editors or publishers
Analyze journal or publishers to see if they are predatory
Recommend safe journals to consider for publication